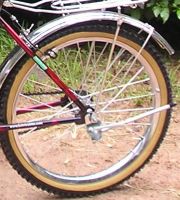 Wheelie Good

Blogging about work - dodgy at the best of times. Blogging photographs of work - pretty dumb. Hence the peculiar photo of a detail from a bike. Let's face it, it could be any bike, anywhere, anytime. But it's not.

A Child Sponsor in the UK has sent money to us to get her child a bike. We normally don't encourage gifts as it can cause rivalry between kids, but in this instance it was money well spent. Let's call this girl-child Mary. And I'm pleased it's a girl-child because girls are always bottom of the pile here.

With the advent of this bike Mary no longer has a three-hour long round-trip walk to school every day. It means she can get home again in daylight, less tired and better able to study. So hurrah, this is Monday's Happy Story. I am trying to push to the back of my mind the fact that she is 12 years old and due to malnutrition she looks like she is 6.